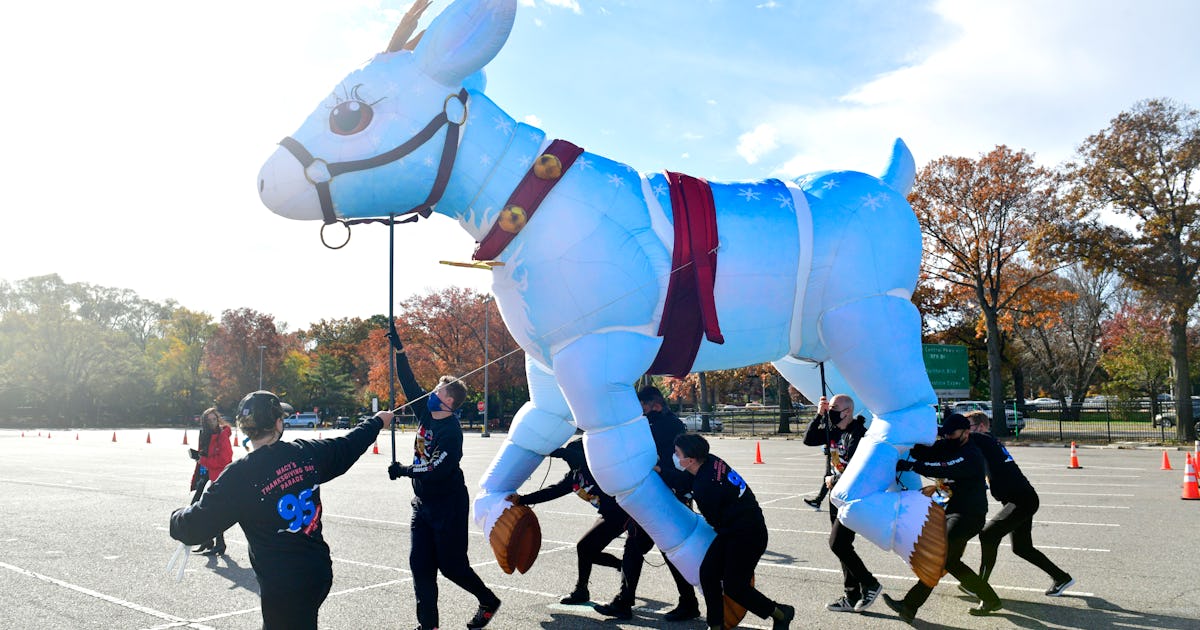 This morning, as I was trawling the world wide web for new information to aggregate on this slow information day, I learned from a CNN post that 1) there are six new balloons becoming a member of Macy's Thanksgiving Working day Parade, and 2) a person of them is a reindeer named Tiptoe.
I'm sure your reaction to this is substantially like mine: There's a new reindeer? Um, I assumed it was set up lore that Santa has a crew of eight pulling his sleigh — nine, if you contain Rudolph the Purple-Nosed Reindeer, of the 1939 coloring booklet Rudolph the Red-Nosed Reindeer and subsequent diversifications? Are we just adding reindeer to the canon willy-nilly each time we want now? Won't that throw off the sleigh-pulling harmony? What is so mistaken with the existing reindeer that they cannot be highlighted in the parade rather?
Nicely, the response to that final issue is basic: The existing reindeer weren't designed by Macy's, as Tiptoe was. The department retailer unveiled its new IP earlier in November in a getaway marketing campaign online video. In this origin tale, Tiptoe is released as a "cute" (debatable) tiny reindeer who life in the North Pole with her pals Polar Bear and Penguin (the total scientific group appreciates that penguins are not observed in the Arctic, so way to spread misinformation). Tiptoe is as well shy to fly, so her buddies solicit enable from some Keebler-ass-wanting elves, who invent a mechanically extremely hard "flying machine" for Tiptoe to strap on. She efficiently requires Santa for a experience (even nevertheless historically Santa's sleigh has required a entire crew to get up in the air), her balloon wings pop, she almost crashes, it turns out "she just experienced to Believe" to fly, yadda yadda yadda. Standard advertorial fluff, expertly crafted to anchor Macy's getaway product sales.
Rationally, I know it's not Tiptoe's fault that she is a baby of commercialism. Soon after all, Rudolph — who I presume Macy's did not use due to the fact the retailer didn't want to shell out the money to license the character — was also born of in the bosom of big retail, and look how much he has come now.
But on an irrational stage, I detest Tiptoe and her treacly-sweet development fantasy. I really do not like her blue fur that can make her glance like she has hypothermia. I despise how the plushie variation Macy's designed of her (viewed below around the close of the video clip) is smooth like some uncanny valley CGI abomination as an alternative of furry and fuzzy like an real reindeer would be. I abhor how, when I dared to go towards the grain vis-à-vis Tiptoe in my office Slack, my coworkers cyberbullied me so viciously that, in a moment of trauma-induced acquiescence, I said that I would compose this blog publish. But most of all, I loathe that I see myself in Tiptoe, and that where by I have cratered underneath the body weight of self-loathing and insecurities, she has acquired to soar. Help you save some belief for the relaxation of us.
Editor's be aware: Jenny has been fired for her place on Tiptoe. Be sure to fork out your respects to her very last publish.